Tour Details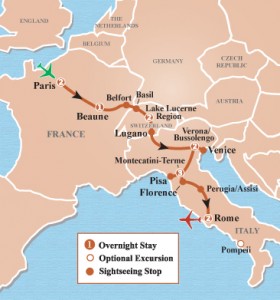 DETAILED ITINERARY
DAY 01: Friday, October 11 – Overnight Trans-Atlantic Crossing
At time of booking, choose Grand Rapids or Detroit for your U.S. departure city.
DAY 02: Saturday, October 12 – Arrival in Paris, France
Aaah, Paris, "La Ville Lumiere" – City of Lights. Upon arrival at the Paris airport, transfer to the hotel. The balance of the day is yours to 'chill out' and to jumpstart your exploration of Paris. I will provide those who are interested with a list of Parisian foodie places such as for cooking and baking ware, historic cafes, and hidden gems in the Marais. You should also consider taking an afternoon walk through the colorful old town section of Montmartre, crowned with the imposing Sacre Coeur Cathedral, from which one has a beautiful view of Paris. Later in the afternoon, join me for an optional happy hour at a wine bar on 'Rue Montorgueil' and I will recommend a few casual dinner spots around the arrondissement for a light 'after the flight' independent dinner.
DAY 03: Sunday, October 13 – Paris, France
This morning, I invite you to join me on a visit to Paris' best organic market, the Raspail Market on the left bank. Raspail is a compact market with organic wines, incredible cheese selections and a caramelized onion galette that Parisians line up for every Sunday morning. Afterwards, I invite people to visit other left bank sites such as the La Grande Epicerie de Paris for some of the most delectable food products or take a stroll along one of my favorite parks in the city, the Jardin du Luxembourg. For lunch, I suggest skipping over to the right bank and visiting the food shops at the Madeleine – Fauchon and Hediard – for incredible salads, terrines and one of the best hot chocolates in the city. In the afternoon, we'll take a boat ride on the Seine River, featuring many of the historical buildings and monuments that have become symbols of Paris. The tour manager will help you get oriented with the city center by pointing out the locations of Notre Dame Cathedral, Eiffel Tower, Louvre Palace, Place d'Etoile and Champs Elysées. For dinner tonight, join me on a 'Paris Evening' excursion, with dinner and musical entertainment at a characteristic French bistro in the heart of Paris. I will help you interpret the menu and point out a few selections you might like to try. (Breakfast, Dinner)
DAY 04: Monday, October 14 – Paris – Beaune, France
Free morning in Paris to catch up on your sightseeing, be it ascending the Eiffel Tower, a visit to the Louvre, going inside Notre Dame Cathedral, or a walk along the Champs Elysées. Leave Paris at noon and motor,  via the idyllic town of Auxerre, to the ancient and historic walled city of Beaune, wine capital of Burgundy and one of the key wine centers of France. Beaune has a rich historical and architectural heritage with features remaining of the pre-Roman and Roman eras. Tonight, experience the great food and wonderful wines of Burgundy. It should be fun to share our dinner experiences tomorrow on our way to Switzerland.  (Breakfast)
DAY 05: Tuesday, October 15 – Beaune – Belfort, France & Basel – Lucerne, Switzerland
A mid-morning departure affords a little time for a stroll through the historic old town center of Beaune.    Then travel through northeastern France to the formerly fortified city of Belfort, and continue to the Rhine Port city of Basel, strategically located at the point where France, Germany and Switzerland conjoin. Basel is the starting point of the 700-mile-long navigable stretch of the Rhine River,  which runs through Germany and Holland, before emptying in the North Sea (Atlantic Ocean) at Rotterdam. Enter Switzerland and feast your eyes on the lovely scenery en-route to the beautiful Lake Lucerne region. Toward dinner time, we take a boat ride on the lake, followed by a ride up the Stanserhorn mountain by open roof funicular, for dinner in the revolving mountain top restaurant, while enjoying beautiful views of the Swiss Alps. If the weather cooperates, the moonlight descent will be quite spectacular. (Breakfast, Dinner)
DAY 06: Wednesday, October 16 – Lake Lucerne Area, Switzerland
Enjoy a leisure breakfast, where after we visit some of Lucerne's principal sights such as the Old City Wall, the Covered Bridge and the famous Lion Monument in the Glacier Garden. This inspiring stone carving, hewn out of natural rock, commemorates the heroic Swiss soldiers who lost their lives defending the French King Louis the XVI during the French Revolution. There will be ample time to shop for wood-carved music boxes, Swiss watches, lace and delicious chocolates, or to relax on one of the lovely lake shore promenades. If there is enough interest, I may offer a visit to a cheese farm.  Dinner tonight will be on your own, giving you an opportunity to try a few Swiss specialties. Tomorrow, during our drive through northern Italy, feel free to grab the mike on the motor coach to  share your dinner experience.  (Breakfast)
DAY 07: Thursday, October 17 – Lugano, Switzerland & Montecatini-Terme, Italy
Church bells break the silence of the night and welcome another glorious day. Travel  through    William Tell Country, the Swiss Lakes region and the spectacular Gotthard Tunnel to Lugano, oft-referred to as the "Rio de Janeiro of the Old Continent". After a stop in Lugano, cross the border into Italy and travel past Milan, across the fertile Po River Valley and past Parma to the Tuscan Spa Resort of Montecatini-Terme. Baths with Spa waters were constructed here as far back as 1530. Our first Italian dinner awaits us at the hotel.  (Breakfast, Dinner)
DAY 08: Friday, October 18 – Florence – Montecatini-Terme, Italy
After breakfast it's only a 30-minute ride to Florence, a treasure cove of  art and architecture. A guided walking tour includes the Piazza del Duomo, Giotto's Baptistry with the famous bronze doors by Ghiberti, Michelangelo's  statue of David and admission to the Accademia. After the walking tour, there's free time to satisfy your individual interests. Before returning to Montecatini-Terme, we take a short detour south of Florence    through the charming Chianti country and pause for a delicious dinner in one of the vineyards. After dinner, return to Montecatini-Terme.  (Breakfast, Dinner)
DAY 09: Saturday, October 19 –Pisa – Montecatini-Terme, Italy
This is the perfect place and time to slow down a little, with a leisure morning excursion to the intriguing Leaning Tower of Pisa, a visit to the unspoiled medieval town of Lucca, followed by a "Tuscan Wine and Cooking Class" in the special ambiance of a traditional Tuscan vineyard. Learn about the production of local wines and olive oils. Tour the lovely grounds and wine cellar and take part in a wine tasting. During the cooking class, learn how to prepare homemade pasta and other dishes. Top off this culinary experience by enjoying a regional dinner you helped create amidst the beauty of the vineyard.  (Breakfast, Dinner)
DAY 10: Sunday, October 20 – Orvieto – Anguillara Sabazia, Italy
Motor southeasterly through the Tuscan Hills to the province of Umbria for a mid-morning visit to the picturesque hilltop town of Orvieto. We take a funicular to get up to the town. After leaving Orvieto it's a little more than an hour to the lovely Lago di Bracciano, about 20 miles northwest of Rome. The lake shore resort town of Anguillara Sabazia will be our bivouac for the next two nights. The Italy episode of Everyone loves Raymond was filmed in the old village of Anguillara Sabazia. Across the lake, in the town of Bracciano, is the Castle Orsini-Odescalchi which has served as a venue for celebrity weddings, including Tom Cruise, Christiane Amanpour and Eros Ramazzotti, the famous Italian pop singer. A local train connects Anguillara with Rome in 40 minutes, but why not spend a lazy Sunday afternoon on Lago di Bracciano. For your independent dinner tonight, choose from one of the restaurants in Anguillara Sabazia. (Breakfast)
DAY 11: Monday, October 21- Rome – Anguillara Sabazia, Italy
Benvenuto a (welcome to) Roma, "La Citta Eterna" (The Eternal City). This morning, we explore the wonders of Rome, an energetic, modern metropolis, yet proudly protective of its abundant historical sites, such as the Trajan and Roman Forums, Arch of Constantine, Colosseum and other highlights. And, don't neglect to toss a coin in the Trevi Fountain. Around 4 pm, we return to Anguillara Sabazia for a few hours of relaxation and to enjoy an aperitif before tonight's festive 'Farewell Dinner' at our hotel, for which  I am hoping to 'cook up' a bit of a culinary adventure, if nothing else but an excellent meal.  (Breakfast, Dinner)
DAY 12: Tuesday, October 22 – Return flight from Rome to the USA
Transfer to Rome Fiumicino Airport for the return flight home. (Breakfast at the hotel, Inflight food and beverage service as provided by the airline)